2015 GMA Lifetime Achievement Award Speech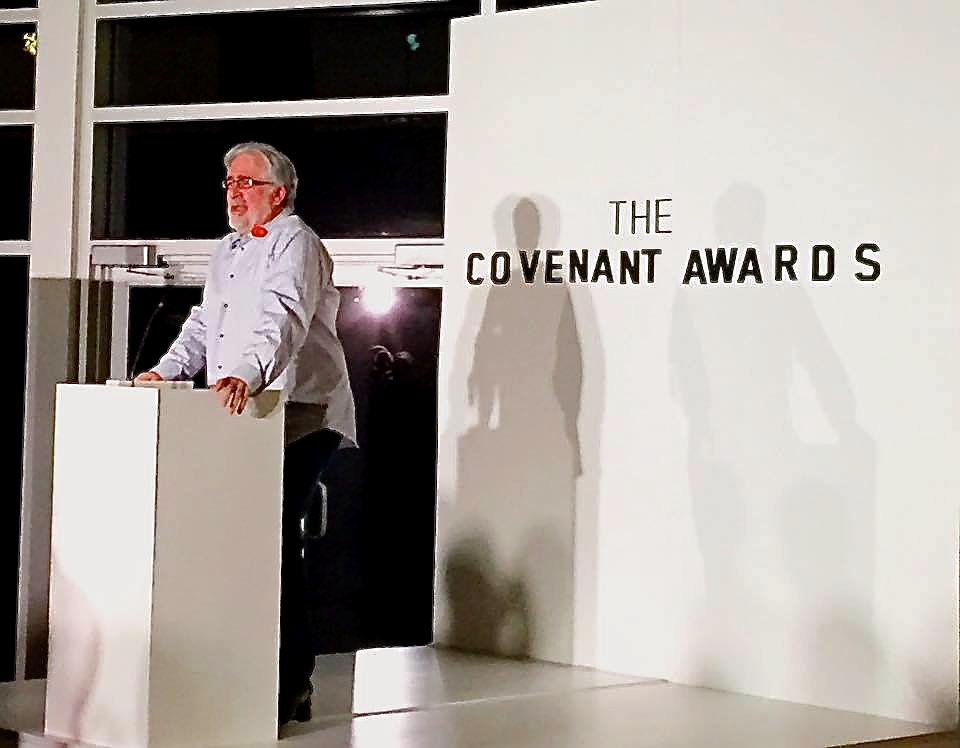 Thank you Arlen for the warm intro.
I'm deeply grateful for this………and humbled.
When Greg Strom first called me regarding receiving this Lifetime Achievement Award my first thought was it was too early!
I'm still "lifetiming and still achieving"! But I was assured this was good and appropriate timing.
This is the 37th Covenant Awards ceremony and here's a little tid-bit – I've been performing and producing longer than the awards have existed.
Yet it is good to remember. Because when we don't remember, we forget………
Which is why we have the Eucharist.
So, in remembering, I want to thank Greg, Gordie and the whole GMA board for this acknowledgement.
I also want to thank my lovely long suffering wife Gayle, who cracks jokes at parties "I never lived alone until I got married to a musician."
I also want to thank my daughters Kalia and Janaya. They grew up with the recording studio as their playground and we sustained ourselves by the maxim "Quality over Quantity."
I also want to thank 4 people without whom, I wouldn't be here tonight. I want to thank my dear friends and colleagues Steve Bell and Carolyn Arends for their deep friendship and wonderful video introduction. As well I want to thank my dear friend David Jennings who is able to be with me here tonight. Also I want to thank Katharine Bubel, who for 25 years has argued, cajoled and discussed the deeper parts of philosophy and theology with me. For years we've called this discourse "…to be continued". These 4 people have informed, and formed me and I am so profoundly grateful for their roles in my life. Friendships like these are so important because we not only need friends that love us, but we need friends whose love is honest enough to speak the truth into our lives, especially truth we don't want to hear. And in so doing we form community that not only celebrates the good times together, but sustains us thru the difficult times. I cannot stress to you enough to foster these strong trusting relationships.
Finally, I want to thank…..YOU, the artists that have made my life's work so fulfilling. You have taught me and moved me with your talents and gifts, and have made my life on the other side of the glass so enjoyable and fulfilling.
Now……let me tell you something that most of you here already know.
We live in a culture that focuses on results. We write songs, sing and record hoping we'll get noticed. Hoping we'll be validated and affirmed. Maybe find some success, make some money. Maybe even win some awards. But when we focus on the results that our music brings, it affects the art we make. It changes it. It turns our music and performances into a fishing rod that is looking for a catch. This affects the quality of it and reduces it to a commercial for something other than the art itself.
Make your focus the substance of your craft. Create work that reflects passion, authenticity, virility and empathy. Focus on the rightness, the truth of your work and make that the value you strive for. So when you sing, when you write, when you perform you are reaching for something bigger and deeper than mere approval, which ultimately leads to disappointment and discouragement, and denigrates your work to mere identity.
In so doing, you may not sell a million units, but you will have a better chance at affecting culture in a positive way. And you will bear witness not only to the God that is in you, and in your church, but to the God who is actively participating in the world around you, and calling you to participate with him. And it is worth it if your music can help soften someone's heart, to turn ever so slightly toward God, and in doing so, make an impact that is beyond the span of ones lifetime.
Now….. regarding Carolyn's mention in her introductory video about the Gorilla. It's a quote from Picasso: "Show me a pretty girl riding a bike beside a beautiful park and I'll show you a boring picture. Show me a Gorilla riding a bike beside a beautiful park and I'll show you an interesting picture."
This has to do with settling or not settling for the obvious and the juxtaposing of opposites. When we add a string part or a guitar part that sounds obvious, I decide the song needs a gorilla. Something that goes against the grain and creates an artistic tension to pull the listener in. Something that is not obvious or expected yet somehow works.
Picasso also said "technique (or technology), should never be more than the servant of the heart". For all you button pushers out there that work with software and sound manipulation like I do.….. remember to never let our recording technology replace the heart. It serves it, as we serve something and someone greater than ourselves in our engineering and our work.
Thank you again for this award and for all that you've given to me over the years.